Outside In offers a range of different opportunities for Outside In artists. The opportunities may come in the form of a commission, a residency or a call-out to take part in one of our group exhibitions.
To stay up to date with our opportunities you can check this page, follow us on social media or sign up to our e-newsletter HERE to get monthly updates.
To find out about our current opportunities you can click HERE
---
Find out more about Commissions
A commission is when an artist is asked to create new artwork in response to a chosen brief, this can be a theme, setting or material. Commissions are a great way for artists to explore new ways of making, boost their CV and help develop relationships with galleries and other artists. Artists who are commissioned may get the chance to work alongside an artist mentor, which can help with their professional development. A commission is usually followed by an exhibition for the public to view the work which has been made.
You can find out more about 'Colliding Worlds' you can look here
---
Find out more about Residencies
Residencies give artists the opportunity to work outside of their usual environments and develop their artistic practice. Residencies often happen over a period of time which allows artists to think about the new artwork they are going to make, research the project and spend time experimenting and producing new work. A residency is usually followed by an exhibition or an event which allows people to view the work which was created.
To find out more about the residency and exhibition Realm click here
---
Find out more about Call-outs for exhibitions
Outside In organises a variety of exhibitions which take place throughout the UK, often in collaboration with partner organisations and sometimes with an overarching theme running through the show.
An example of one of theses exhibition is Alternative Visions: Undiscovered Art from the South West. This celebratory exhibition provided unique insights into a previously undiscovered group of artists and what motivates them to create art. The exhibition was developed by Arts & Health South West, Outside In and Bristol Culture. Over the course of one year it is touring to Bristol Museum & Art Gallery Falmouth Art Gallery, The Wilson in Cheltenham and Poole Museum.
The exhibition features painted, drawn, printed and sculpted works from 20 artists. They are diverse in content, style and approach; Peter Matthews dons a wet suit and paints in isolation as he floats in the tide off the Cornish coast; Jeremy James Lovelady finds discarded objects on the streets of Penzance, which he includes in his textural paintings.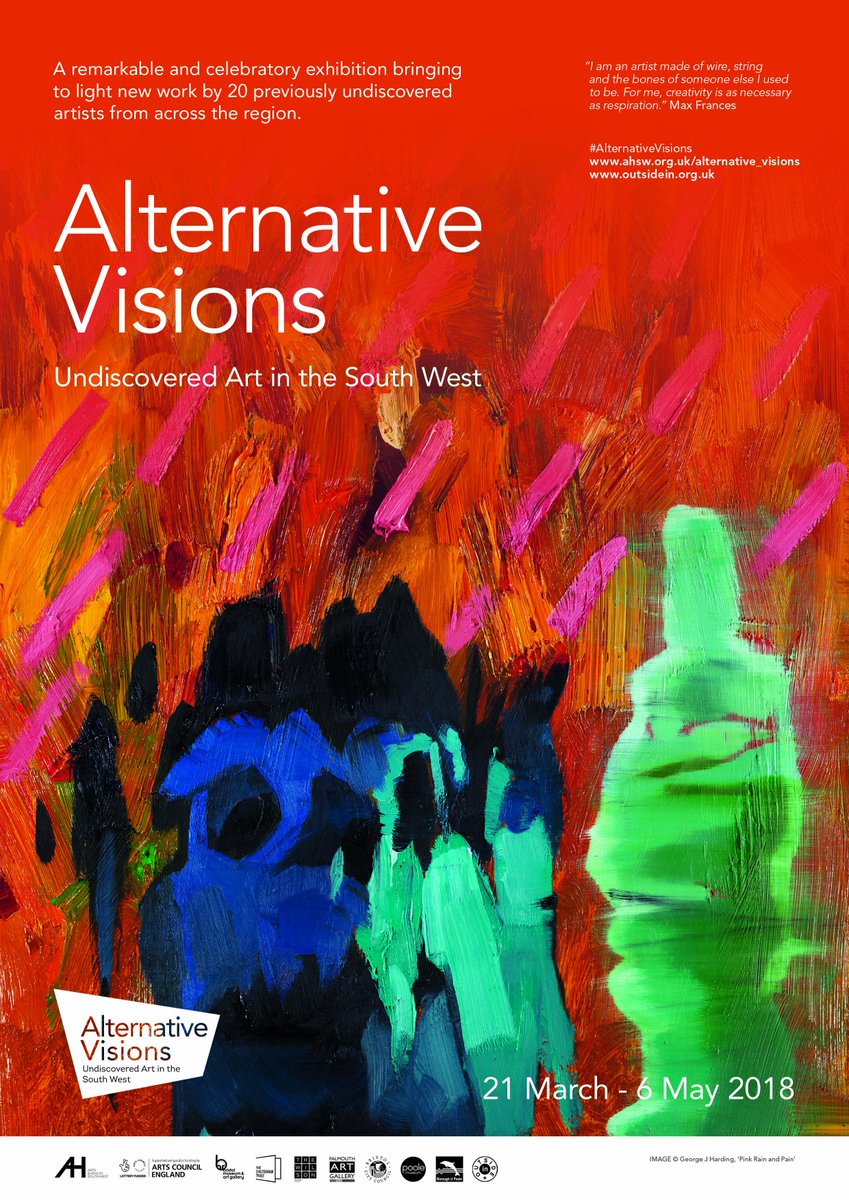 To find out more about 'Alternative Visions' you can click Here
---
Find out more about selling opportunities
If you have an online gallery with Outside In you can select an artwork to feature on our online shop. If you would like to add artwork you can find out more here.
Outside In attends art fairs usually once a year, we have attended the Outsider Art Fair in Paris in 2017, 2016 and 2015. In 2018 we made our debut at the Manchester Art Fair.

" Having galleries such as Outside In showing at contemporary art fairs is really important. It shows that work withstands critical rigor, it has a curatorial intent and 'hold its' own' in the contemporary arena. The work comes first and not the 'otherness' – which is vital to focus on otherwise we remain marginalised and stigmatised as people and artists. "


Outside In artist Aidan Moesby about his experience taking part in the Manchester Art Fair